Roy and Teddy are the chosen names for the new flagship combo and compact stage monitor added to the Swiss manufacturer's expanding portfolio. This year's Frankfurt Musikmesse and Prolight+Sound shows provide the ideal launchpad for these Schertler Group's latest products. The first, designed for all amplification needs of acoustic instruments. The second, a new and very attractive take on one of the most important tools for musicians' performance on stage.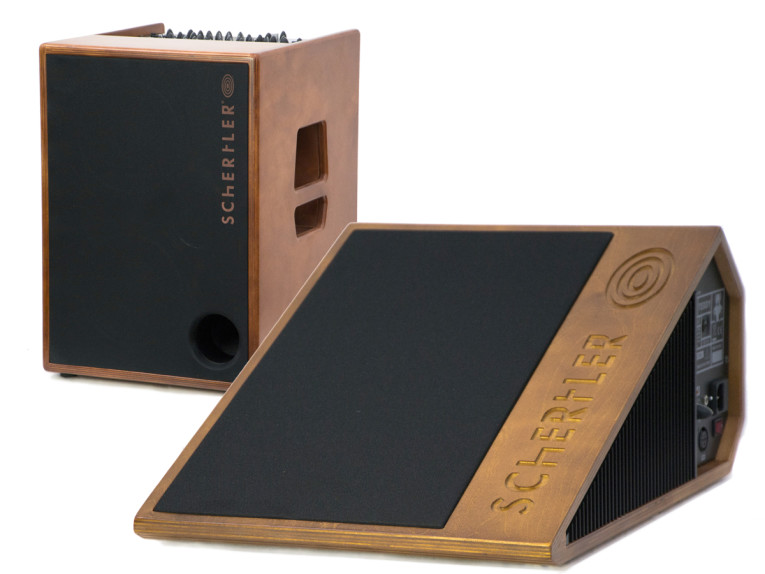 Roy is Schertler's new top-of-the-range combo amplifier for acoustic instruments. The 400W, 7-channel amp provides a powerful yet lightweight system that is perfect for both stage and studio. ROY includes 4 input channels with various mic / instrument combinations; inserts (as on a professional mixer); 3-band EQ and phantom power; an additional unbalanced instrument input channel; a stereo input channel for playback devices and an FX return / additional input channel. Roy has the same hi-end Class A preamp found in other Schertler amplifiers. Its Master section features both a digital reverb and a new digital Multi-Effect (on a separate bus), as well as DI/Line/Aux Outs and a headphone preamp.
Specially developed for theatre and concert sound applications, Teddy is Schertler's new 200W compact stage monitor. Its "low profile" design is ideal for edge-of-stage use without impeding audience views. Teddy features a coaxial speaker for constant sound directivity, with a specific inclination angle that makes it ideal for both standing and seated performances. For more extensive stage coverage, several units can be chained together using XLR input and output connectors - all connected to the same signal path.
An intuitive control panel includes a single Sensitivity knob for adjusting the signal level from -9dB to +6dB (enabling finer regulation of the signal sent from the mixer), an EQ switch with two pre-shaped curves and a Ground Lift switch.
Following its 2016 release, Schertler's
Arthur modular mixer
returns to Frankfurt with several new modules. Arthur offers both audio professionals and performing musicians a mixer that they can configure and build to suit specific recording and live sound requirements. Additions to the current range of input and output modules include a new Multiple input unit (with 4 line channels), a Master EQ unit, a new Sub Group Class A summing amp and a Spring (reverb) Unit. The latter is designed for use both as an Arthur module and as a stand-alone reverb.
Other more established products making a return to Frankfurt include Schertler's Tim and Tom compact portable PA systems and the Unico 250W acoustic amplifier, whose 10" woofer and optimized bass reflex construction makes it ideal for a range of acoustic instruments and as a crossover amp for electric guitars. The Schertler Group can be found in Hall 8.0 of the Musikmesse, Stand H95, and in Hall 4.1 of Prolight+Sound, Stand A28.
www.schertler.com