Challenging established brands in music notation, German company Steinberg Media Technologies just announced details of its own next-generation scoring application for Windows and macOS. Designed by musicians for musicians, Steinberg wants it to become the new choice of professional composers, arrangers, engravers, copyists and educators the world over. Developed by an experienced team, Dorico wants to be the new standard in notation software.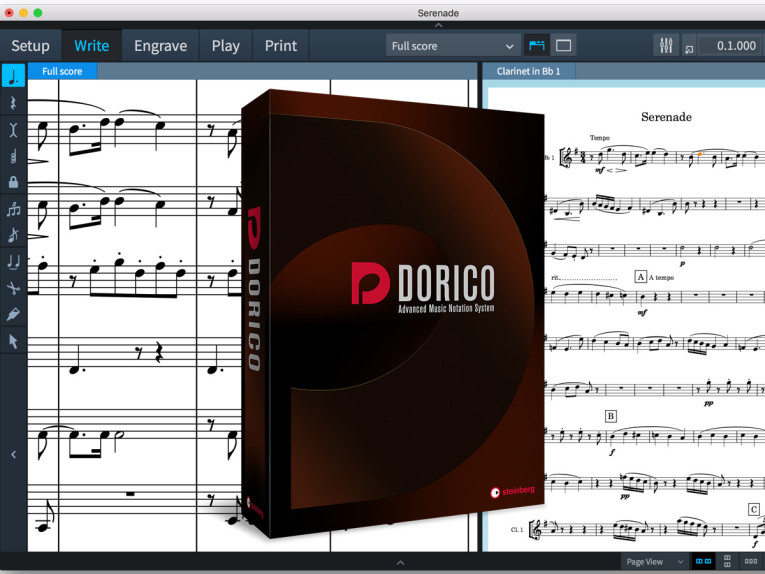 Steinberg's Dorico is scheduled for release the fourth quarter of 2016. In 2012, Steinberg (a wholly owned subsidiary of Yamaha) established an R&D center with a new development team in London, setting out to develop next-generation professional scoring software. This was a unique opportunity for Steinberg, following Avid's decision to dump its UK-based Sibelius operations, leading to the German company hiring most of the team in November 2012.
Now, almost four years later, Steinberg has provided an overview of the powerful feature set to be included in the initial major release of Dorico, its advanced music notation system and entrance in this important product category. As Steinberg describes it, the new software is a "perfect combination of power and simplicity. Its easy and straightforward single-window user interface comprises high-performance tools and versatile page layout options that place a clear focus on a smooth workflow."
Full specifications for Dorico detail that this is a totally new 64-bit application for OS X and Windows, allowing flexible note input and powerful editing, including ability to insert and change duration of existing notes, all within a streamlined, single-window interface. Powerful score management features include handling of multiple independent pieces of music within the same project, unlimited number of staves and movements, sections, or pieces within the same project, as well as the possibility of creating layouts for full scores and instrumental parts with independent page size, staff size and system layout.
Not surprisingly, the new generation scoring software will also benefit greatly of Steinberg's DAW expertise, allowing full MIDI keyboard input, apart from the computer interface, all with superior note spacing with optical kerning of adjacent elements, with tighter default spacing and no rhythmic distortion. Dorico will import and export in MusicXML, MIDI and graphics formats and will take full advantage of Steinberg's 32-bit floating-point audio engine with flexible routing for virtual instrument and effects, compatible with VST 3.
Steinberg also says that Dorico will provide the most flexible note input and editing functionality of any scoring application, including the ability to work entirely in open meter or to freely rebar existing music, while maintaining clear and unambiguous rhythmic notation at all times. "Only Dorico allows
composers to experiment freely with musical ideas, including seamlessly inserting music within an existing passage, or changing the durations of existing notes, and have correct notation produced automatically after every step," they state.
The application will also provide unique capabilities for project management, allowing users to easily produce works with an unlimited number of staves and movements, sections or pieces within the same project. "Dorico facilitates the creation of various score layouts with independent page size, staff size and system layout, powered by a desktop publishing-quality page layout engine."
Directly targeting leading music publishing software like MakeMusic's Finale, Steinberg also details that Dorico's graphical output is "intended to uphold the centuries-old craft of fine music engraving, with attention to even the smallest of details. Taking every subtlety into account, Dorico aims to fulfill the aesthetic demands of the most discerning engravers and publishers, providing extensive capabilities for graphical tweaking and editing. Dorico's multi-threaded architecture makes the software smooth and responsive, even when working on large-scale projects.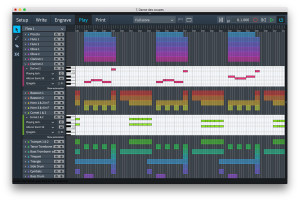 Building on Steinberg's award-winning audio engine, Dorico comes with a host of sumptuous VST instruments and effects, including HALion Sonic SE and the entire HALion Symphonic Orchestra library. Steinberg's Product Marketing Manager, Daniel Spreadbury, commented: "After working on Dorico for more than three years, we are excited to finally announce its name and forthcoming availability. All of us on the Dorico team are dedicated to building the best, most beautiful and most useful tool for working with music notation, and we will continue to work hard over the next few months to refine the application before the first version is available for everybody to try for themselves. This is just the beginning of the journey, and we look forward to working with our user community to continue to shape Dorico into the ultimate tool for composing, arranging and
publishing music."
The full version of Dorico will be available from Steinberg resellers and through the Steinberg Online Shop in the fourth quarter of 2016 for 579 euros including VAT. Educational pricing for qualifying teachers and students will be 349 euros including VAT. A special time-limited crossgrade offer for qualifying Sibelius and Finale users will be available for 299 euros including VAT.
www.steinberg.net/dorico