Teledyne LeCroy, a leading company in Bluetooth protocol analysis and testing services, announced the development of a Bluetooth Conformance Tester for verifying conformance of Bluetooth low energy link layer and HCI implementations and also announced availability of the Frontline Sodera LE Analyzer supporting Bluetooth 5. Both solutions complement Teledyne's Audio Expert System audio quality tool set for resolving audio issues related to the Bluetooth protocol.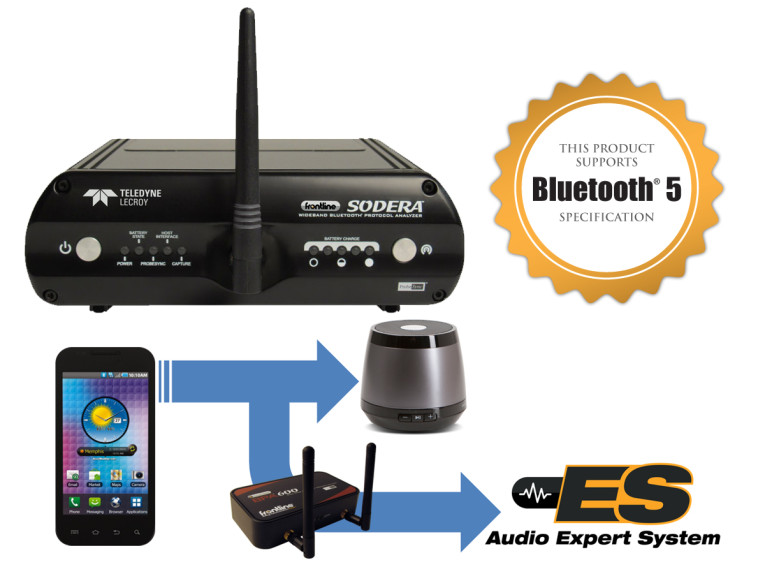 The Teledyne Bluetooth Conformance Tester dramatically simplifies the testing and reporting of Bluetooth low energy implementations attempting to conform to the Bluetooth 4.1, 4.2, and 5 specifications published by the Bluetooth Special Interest Group (Bluetooth SIG).
The Teledyne Bluetooth Conformance Tester is used in conjunction with the Sodera Wideband Bluetooth Protocol Analyzer to test an implementation under test's (IUT) conformance with the Bluetooth low energy specification. IUTs are tested using conformance test cases published by the Bluetooth SIG. For simplicity, test plans created using the Bluetooth SIG test plan generator can be directly imported into the Teledyne Bluetooth Conformance Tester.
Conveniently, the Frontline protocol analysis software runs at the same time as the conformance tester and provides comprehensive packet analysis. In addition to errors, warnings and events, by adding the Bluetooth Protocol Expert System software module, specific references to the Bluetooth specification and even solutions are made available while running the Bluetooth Conformance Tester.
"The Teledyne Bluetooth Conformance Tester significantly reduces the conformance testing lifecycle," explains David Bean, General Manager Teledyne LeCroy. "Not only does it streamline the conformance testing process, it can provide detailed solutions pointing to how to fix the issues that will inevitably be discovered when used with the Teledyne Bluetooth Protocol Expert System software module."
Teledyne and Frontline
The development of new Bluetooth analysers and testing solutions follows the acquisition of Frontline Test Equipment, Inc. by Teledyne LeCroy in 2016, expanding the company's portfolio with leading protocol test solutions, including Bluetooth and 802.11 (Wi-Fi) protocol analysis and analysis tools for other wireless and wired "Internet of Things" (IoT) technologies.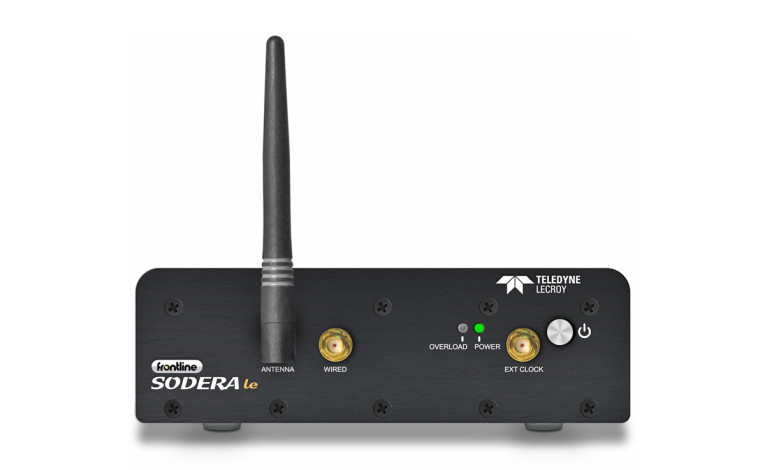 This allowed Teledyne LeCroy to recently launch a new wideband Bluetooth protocol analyzer, the Sodera LE analyzer to drive development with full support of Bluetooth 5 wireless technology. Bluetooth 5 brings even more opportunities for multiple industries with longer range, faster speeds, and dramatic improvements in both connection and connectionless technologies as used by beacons and mesh. This increasing connectedness promises faster, easier, more intuitive, and safer devices, but also implies more complex topologies, more interoperability obstacles, and more development hurdles.
The Sodera LE Bluetooth protocol analyzer, focused solely on Bluetooth low energy, is the perfect solution for engineers developing low energy Bluetooth 5 -enabled products of the future. "Sodera LE is exciting" says David Bean, General Manager Teledyne LeCroy Frontline products. "It is a powerful wideband Bluetooth protocol analyzer, tailored for engineers developing IoT devices using Bluetooth low energy. It also provides a tremendous upgrade path for our BPA low energy customers, and a budget friendly solution to developing with Bluetooth 5 features."
Frontline Sodera analyzers capture all Bluetooth communications across the entire 2.4 GHz spectrum concurrently (wideband) and allow developers to choose the devices to be decrypted and decoded for further analysis, either as they happen or later, when saved for review. Frontline Sodera (Sodera LE's big sister) comes with an onboard battery and memory, enabling "Excursion Mode" where connections to external power or even a PC is not required. Sodera is also the only analyzer on the market that when combined with the Frontline 802.11 analyzer via ProbeSync can capture, decrypt, and decode both Bluetooth and Wi-Fi packets and display them in a single coexistence view.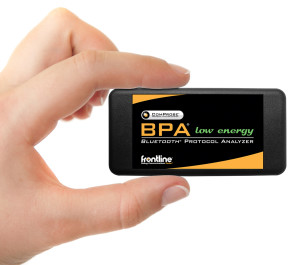 Audio Expert System Software Module
Teledyne Frontline's Audio Expert System is an audio quality tool set focused on resolving audio issues related to the Bluetooth protocol. It works in combination with Frontline's powerful ComProbe software and allows Bluetooth engineers the ability to see audio and codecs events synchronized precisely with Bluetooth protocol events. The Audio Expert System provides information needed to efficiently develop and troubleshoot Bluetooth enabled audio devices and improve overall audio quality.
It can be very challenging to determine the root cause of an audio issue - especially when related to the Bluetooth protocol. The Audio Expert System software module from Frontline provides Bluetooth engineers the information needed to find the root cause and efficiently develop and troubleshoot Bluetooth protocol-related audio quality issues.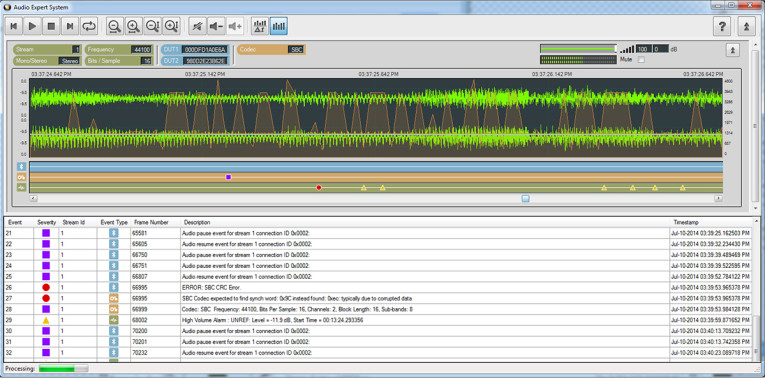 With the ComProbe software enabled with the Audio Expert System module, as Bluetooth frames and packets come into the software, the Audio Expert System scans for audio, codec, and Bluetooth protocol events. Incoming events are time aligned them with the Bluetooth packets displayed in the ComProbe software. Audio, codec, and protocol events are graphically displayed in the wave form viewer within the Audio Expert System module and with a single click on an event engineers are brought directly to the exact packets or frames related to the event in the Bluetooth protocol trace. Events are shown time aligned with both the actual audio wave form and bit rate variances in the wave form pane.
www.fte.com
|
teledynelecroy.com