Texas Instruments (TI) introduced a pair of highly flexible, single-chip buck-boost battery charge controllers for one- to four-cell (1S to 4S) designs. The bq25703A and bq25700A synchronous charge controllers support efficient charging through USB Type-C and other USB ports in end equipment ranging from notebooks and tablets to power banks, and smart home applications.
Nowadays, we see more and more electronics with USB Type-C and USB Power Delivery (PD) ports on the market. They range from cellphones, laptops and power banks to smart home and portable audio applications. The USB PD standard allows the transmission of high power after negotiation and presents new requirements for what's behind the port: the charger IC.
On one hand, as a device, the equipment should be able to negotiate the highest voltage (5-20V) and current provided by the source to charge the battery and provide power to the system. On the other hand, as a host, the equipment should provide the maximum voltage (5V-20V) and current from the battery in the on-the-go (OTG) direction to peripheral devices.
For devices with single- or multiple-cell lithium-ion (Li-ion) battery systems, a buck-boost battery charger is a good solution for compatibility with those requirements. When the device is charging, a buck-boost battery charger can buck (step down) the source voltage to charge the battery if the source voltage is higher than the battery, or can boost (step up) the source voltage otherwise. When providing power to the peripherals, a buck-boost charger can buck the battery voltage if the peripheral device asks for a lower voltage, and boost if the peripheral asks for a higher voltage.
Buck-boost chargers have gained a lot of popularity as more and more applications adopt USB PD and USB Type-C ports, because it is universal and has high power delivery capability. The new bq25703A and bq25700A buck-boost battery charge controllers support up to a 6.35A charging current and have extensive protection features, including input current optimization (ICO) that helps get the maximum power out of a wide variety of adapters.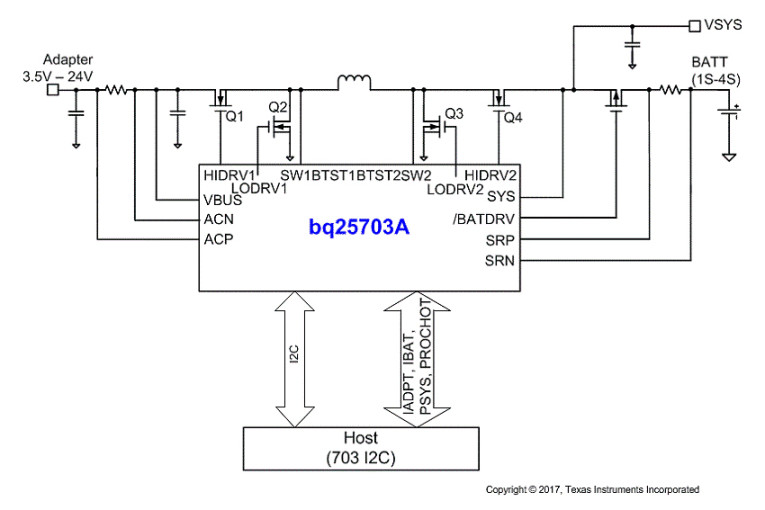 Supporting both I2C and SMBus interfaces, the bq25703Aand bq25700A feature a new advanced battery algorithm enabling full power output by adding intelligence to battery charging through maximum power point tracking technology. The unique algorithm, referred to as input current optimization (ICO), automatically detects the full capacity of input power to optimize current, while maintaining consistent system and charging current to ensure the utilization of maximum input power.
The device's USB Power Delivery compatibility offers an input voltage range from 3.5 V to 24 V, which can be used in multiple ports including USB 2.0, USB 3.0 and the newest standard, USB Type-C. The new charge controllers support input-ready devices from 5 V to 20 V and adjustable output for USB On-the-Go (OTG) with programmable current regulation. In this way, TI's new battery-charging algorithm and intelligent detection features also enable more compact adaptor designs, with support for 1S to 4S batteries.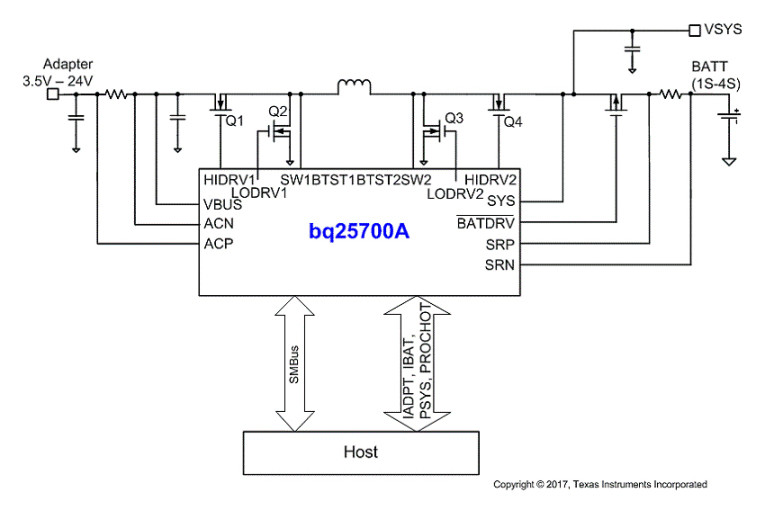 The bq25703A and bq25700A expand TI's portfolio of battery-charger solutions, offering switch-mode fast chargers and linear chargers for a broad variety of applications and power levels. For more about TI's USB Type-C ecosystem and protected power delivery for low power applications
click here
.
For development, the bq25700A evaluation module (EVM) allows easy evaluation of features and performance. The bq25703A EVM and the bq25700A EVM are now available from the TI store and authorized distributors for US$149.00. The WEBENCH Battery Charger Designer is available to calculate the efficiency of the battery charge controller.
The bq25703A and bq25700A charge controllers are now available, offered in a 4-mm-by-4-mm, 32-pin quad flat no-lead (QFN) package, priced at US$2.20 in 1,000-unit quantities.
www.ti.com/product/bq25703a
www.ti.com/product/bq25700a