In its continuous quest to bring the benefits of in-ear monitoring to all musicians, during the NAMM 2017 show, Ultimate Ears Pro released a device that makes personal stage monitoring simple with a plug-and-play solution, the UE Pro Sound Tap. This compact stage accessory plugs directly into any on-stage speaker and taps into the sound mix, passing sound through, without impacting the system. Musicians can then plug in their custom or universal in-ear monitors, and turn the existing stage monitor mix into an in-ear mix.
When musicians started to use in-ear monitoring on stage, multiple companies have quickly responded with dedicated hardware "consoles" that enabled direct adjustment of sources levels and personalized control of the mix. Aviom was probably the most successful of those, pioneering the concept of networked personal mixers. Still, many musicians found the task to be confusing and continued to rely on the guidance of their monitoring engineer. With the launch of the iPad and the popularity of smartphones, many companies have created simple apps to allow the same - or even greater - level of control, allowing musicians to "tune" their monitoring mix wirelessly. While the concept appeals to many, the complexity of the setup and the fact that musicians need to focus on other aspects of the performance, demonstrated that the preferred method is still a combination of the dedicated work of monitoring engineers, while musicians simply need basic level control. More importantly, in many stages, especially at festivals, stage monitors (wedges) continue to be available.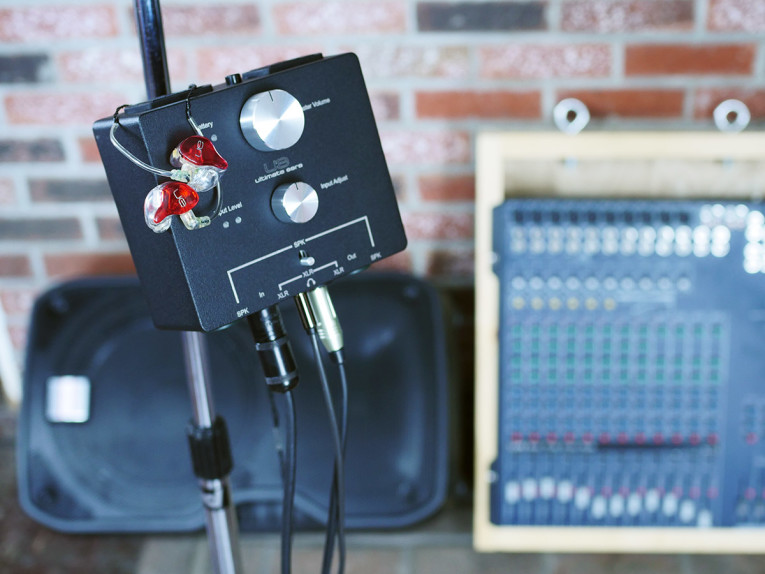 The compact UE Pro Sound Tap device has been designed to work with as many systems as possible, such as stage wedges, side fills and other stage equipment. It supports both line-level or speaker-level inputs. A two standard 9-volt battery gives it 40-hours of charge, allowing its use anywhere in the world without worries.
In-ear monitors were once mostly used by top touring musicians with sophisticated systems, but with this new product, UE Pro has removed one more barrier for musicians to experience the benefits of in-ear monitors, regardless of budget or setup.
"Before UE Pro Sound Tap, not a week would go by without a musician asking us how to use their new in-ear monitors on stage," says Philippe Depallens, vice president and general manager of Ultimate Ears Pro. "The entire ecosystem can be complex and intimidating when you first start using in-ear monitors. This inspired the team to create an easy and affordable solution that makes it simple to use in-ear monitors on stage, night after night, venue after venue."
The UE Pro Sound Tap is available now for a suggested retail price of $249.
pro.ultimateears.com